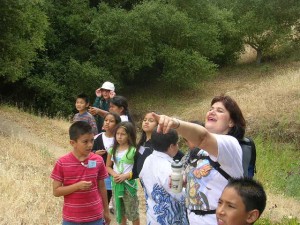 Nature is an outdoor classroom where children experience science, math, language and cooperative learning by observing, touching, listening, smelling, telling and doing.  In addition to curriculum, nature is a great locale for counseling, teaching special education students, learning English as a second language, and for cross-age and volunteer tutorials.  When children learn in nature, they develop their curiosity and creativity, learn problem solving and critical thinking skills, get a sense of place, and know they are part of something bigger than themselves. Through their experiences in nature, they become more passionate stewards of the natural world.
Children are smarter when they learn in nature!  The benefits of working together to enhance Outdoor Learning Environments are that most or all schools have schoolyard gardens with native plants and trees; that teachers actively use nature in their schoolyard or nearby open space for lessons; and that education builds on students' curiosity about the natural world.
What characterizes nature-based, outdoor learning?
Inspire sense of wonder and awe of local nature
Develop sense of place at different scales including schoolyard, neighborhood, watershed, region, and global
Engage directly in nature-based experiences, such as observation and gathering data
Promote stewardship and local action, participate in such projects as school-based actions, education, citizen science, and habitat restoration
More pages for classroom teachers:   Nature and NGSS   Taking Students Outdoors   Schoolyard Habitats  Local Lessons   Videos   Natural History and Citizen Science  Early-childhood and pre-K